These fried Jalapeno Poppers are so crisp and flavorful! My recipe includes a tangy raspberry dipping sauce that pairs perfectly with the creamy, spicy flavors.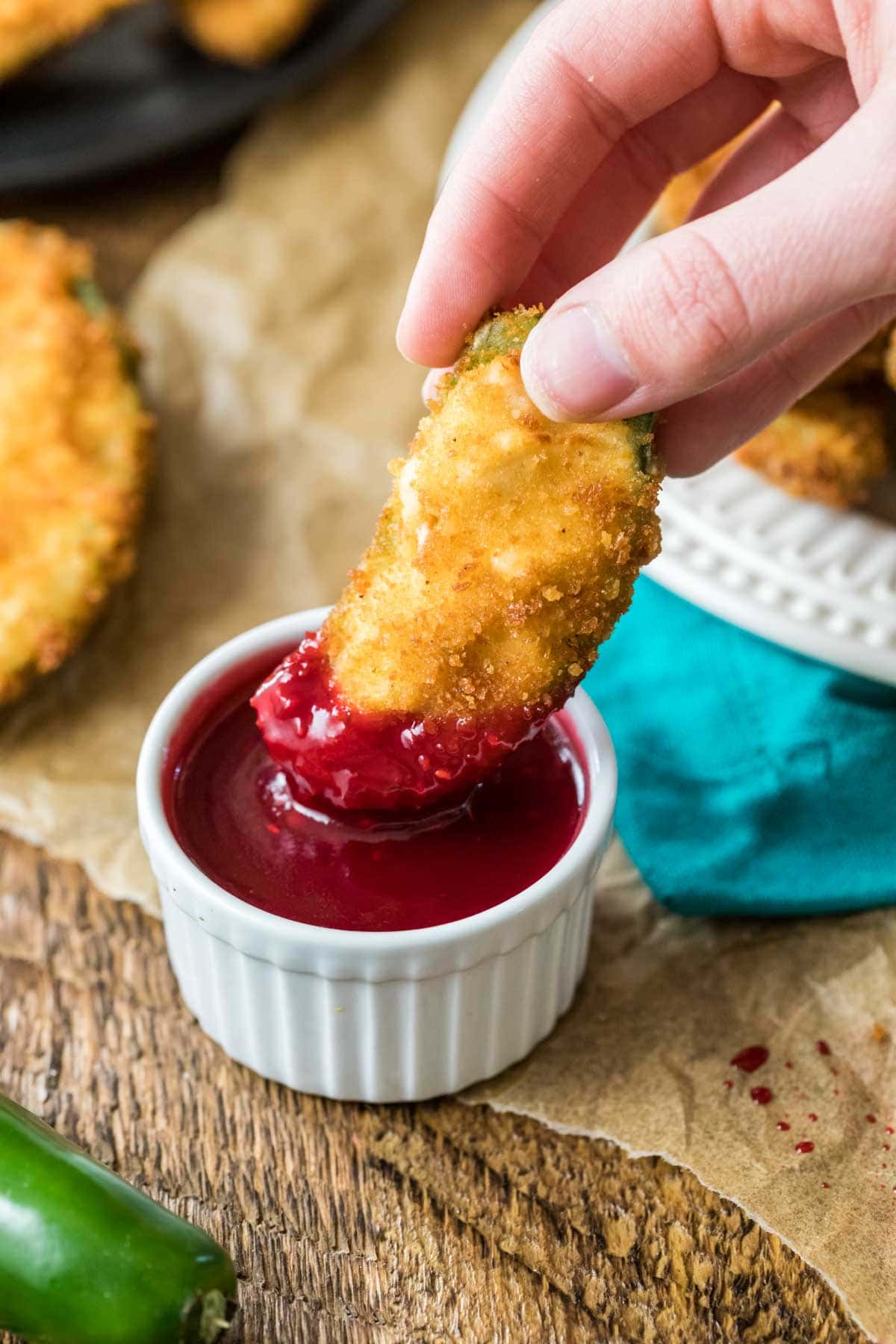 My Homemade Jalapeno Popper Recipe
These jalapeno poppers were inspired by one of my favorite snacks from back in the day when, as a teenager, I worked at a local Arby's restaurant (this is where I actually met my husband!).
These were one of my favorite items on the menu, and when I was pregnant with Luke, despite not having eaten there for years, they somehow became my #1 pregnancy craving (the number of times I burned my tongue biting into one of those bad boys is just too high).
While many versions of this recipe include a savory dipping sauce or even forgo the sauce entirely, I knew I wanted to offer something different. I decided on a sweet and tangy raspberry sauce–obviously inspired by Arby's Bronco Berry sauce–and I love the final combination! It's an uncommon twist that is so tasty and provides a nice, tangy-sweet contrast to the spicy-savoriness of the jalapeno poppers.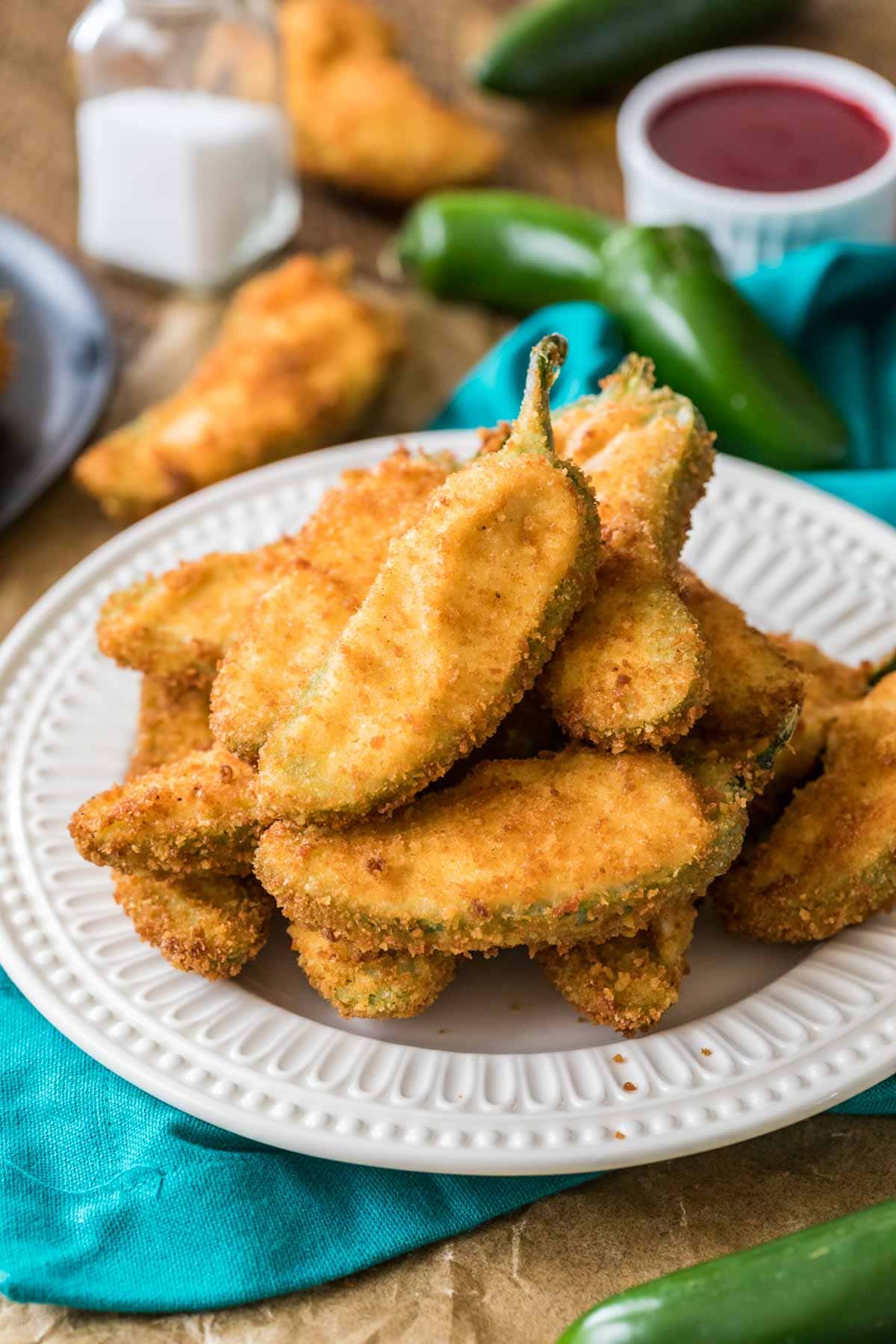 What sets my recipe apart:
Blanching the jalapenos: This step keeps the jalapenos from being too crispy and makes them perfectly tender and easy to bite into. It also helps them cook evenly when fried.
Flavorful filling: Many jalapeno popper recipes add no seasoning to their filling, using either just cream cheese or cheddar as the filling. I amp things up with a few additional spices for maximum flavor!
Crispy coating: The double-dipping process in the egg/milk mixture and panko creates a deliciously crispy and golden exterior, adding texture to each bite.
Unique dipping sauce: This sweet, berry filled sauce complements the spicy and creamy jalapeno poppers so well.
What You Need
I'm breaking up the ingredients visually here (left is the sauce, right is the jalapeno poppers themselves) and highlighting a few of the important ingredients below.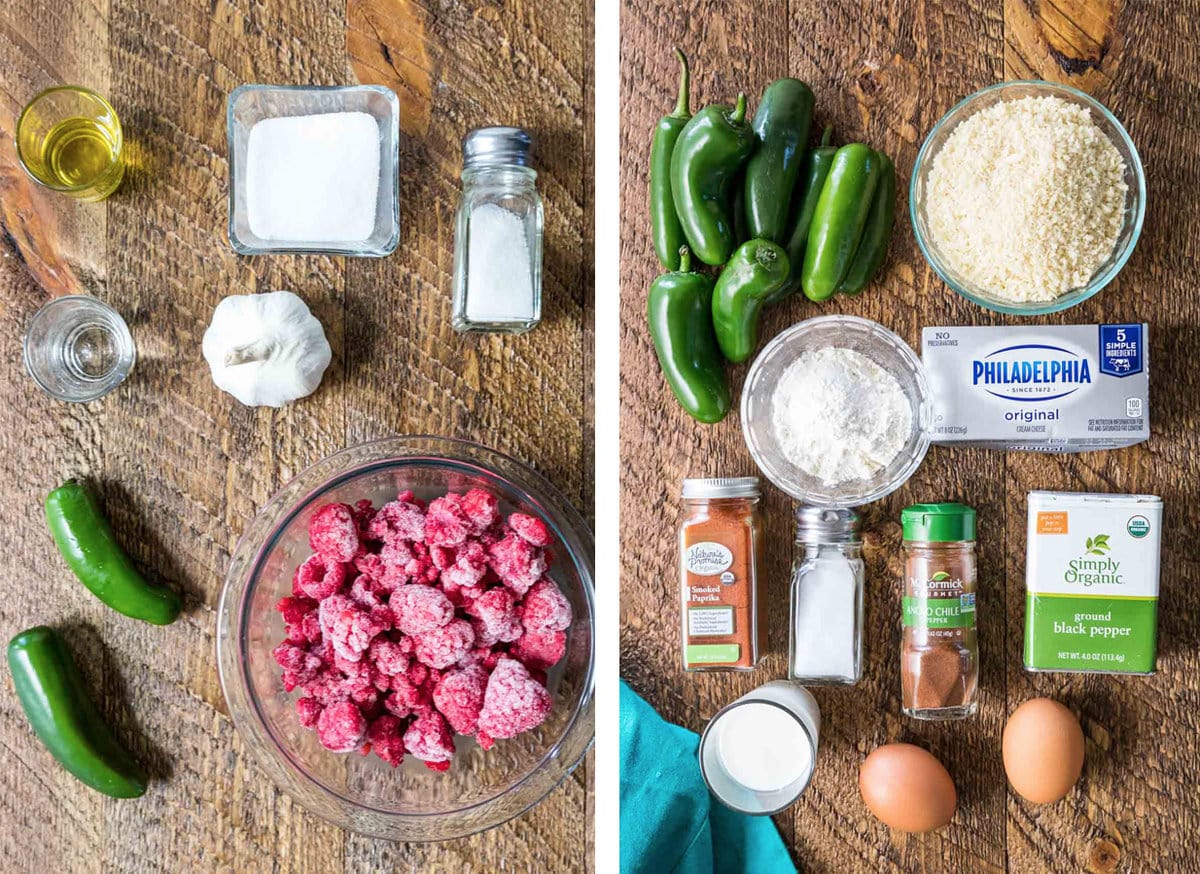 Jalapenos. How many you need will really depend on their size; I tend to prefer the smaller ones. Typically I find I need anywhere from 6-10 jalapenos to use up all of the filling. Remember to save some jalapeno for the raspberry dipping sauce if you're making that too!
Cream cheese. Make sure yours is softened before using it. To speed things up you could cut it into pieces and pop it in the microwave in 10-second intervals until it's soft enough to stir.
Spices. Including garlic powder, onion powder, smoked paprika, and ancho chili powder (a key ingredient in my potato soup). If you can't find ancho chili powder, you can substitute chipotle chili powder or just leave it out entirely, but just note that the chipotle chili powder will be hotter and smokier.
Panko. Make sure to use a plain, unseasoned panko. Note that we won't be using the panko straight from the container; instead, we'll break it up into smaller pieces to ensure a more even coating (I do this with my coconut shrimp, too, it's a game changer). If you'd like to make your jalapeno poppers gluten free, you can use gluten free panko and all-purpose flour.
Frozen raspberries. These are for the dipping sauce. You could also use fresh raspberries, just like in my raspberry sauce.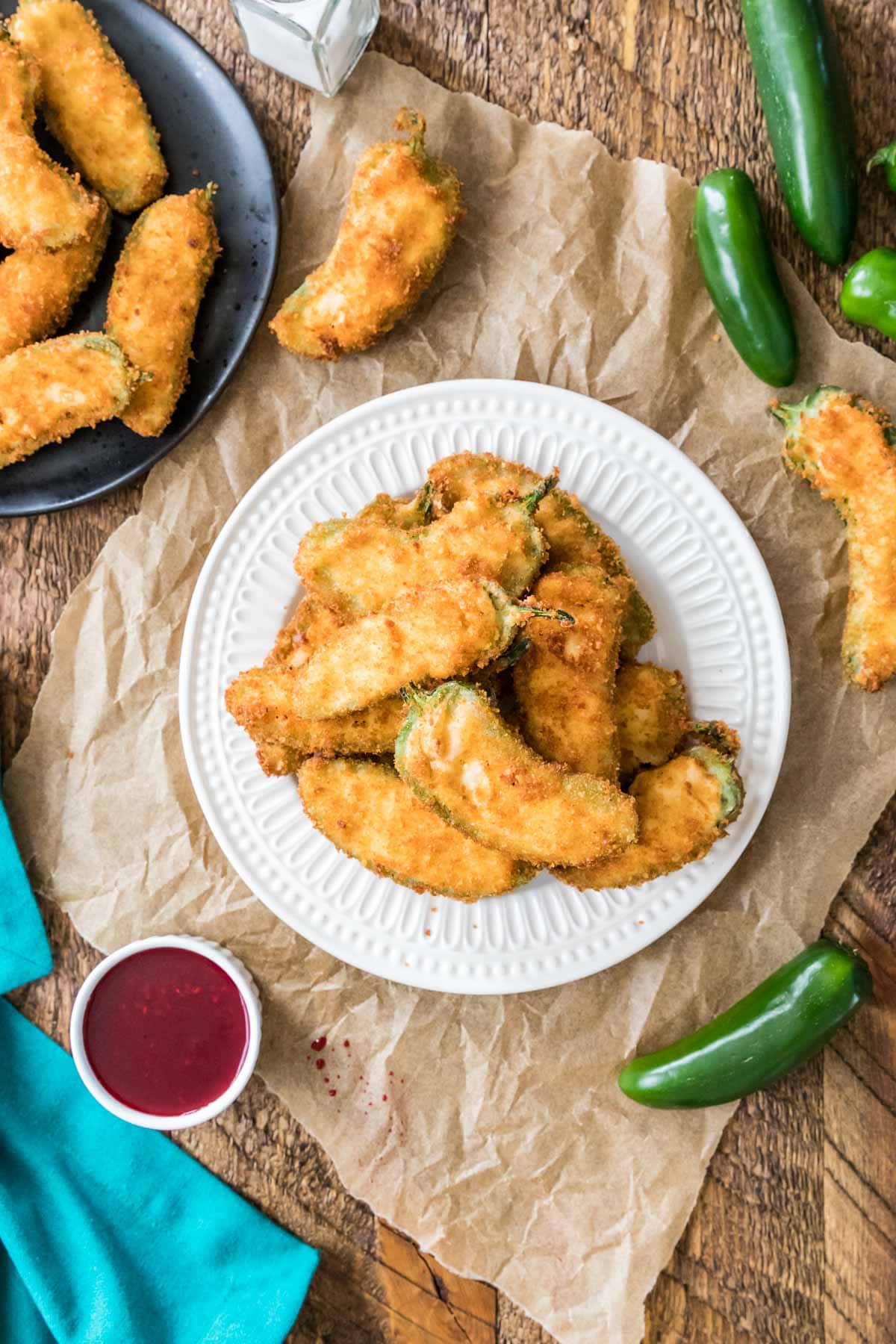 SAM'S TIP FOR CUSTOMIZABLE HEAT: How spicy these are really depends on the jalapenos you end up buying; some are just hotter than others. You can tweak the heat level of the poppers by removing more or less of the jalapeno seeds and membranes, adjusting the amount of ancho chili powder, or adding cayenne pepper to the filling.
How to Make Jalapeno Poppers
There are quite a few steps and I didn't intend for this post to get so long, but I really wanted to provide a detailed visual guide along with the steps, below.
Make the Dipping Sauce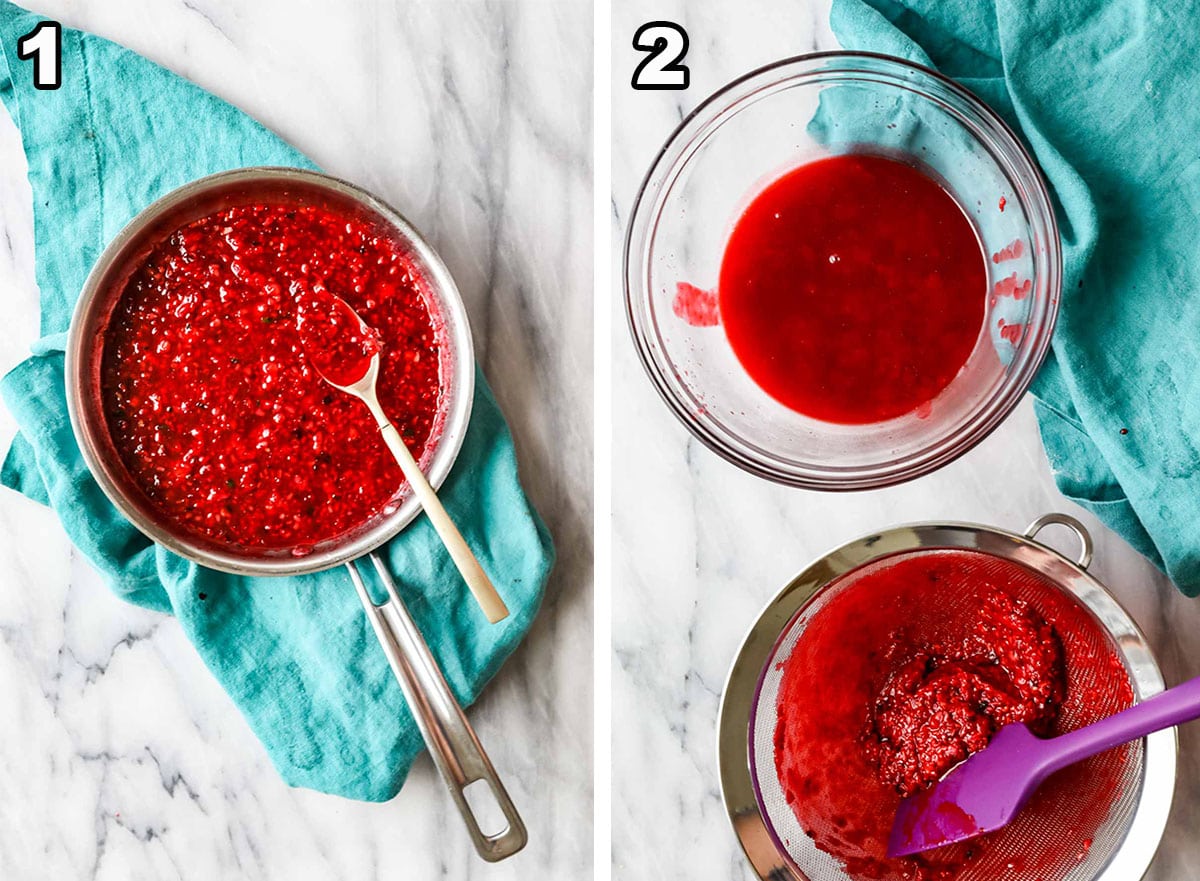 Cook the diced jalapeno over medium heat until softened, then stir in the garlic and cook for about 30 seconds. Stir in the berries, sugar, vinegar and salt and cook until the berries are juicy and the mixture starts to thicken.
Strain the sauce into a heatproof bowl, discarding any solids that are left behind in the strainer. Let the sauce cool, then cover and chill in the fridge until ready to use.
Prep the Jalapenos
Before we begin, a word of caution. I'm not someone who's afraid of getting my hands dirty in the kitchen, but when it comes to cutting and cleaning out jalapenos I always wear gloves and I recommend you do the same. Your hands can absorb the capsaicin oil from the pepper, making them burn for days afterward. And if you accidentally touch your eyeball after cutting jalapenos… you're going to have a bad time (ask me how I know!). These are the gloves I keep in my own kitchen; they're also handy if you have to be hands on with garlic and don't want your hands to smell afterwards!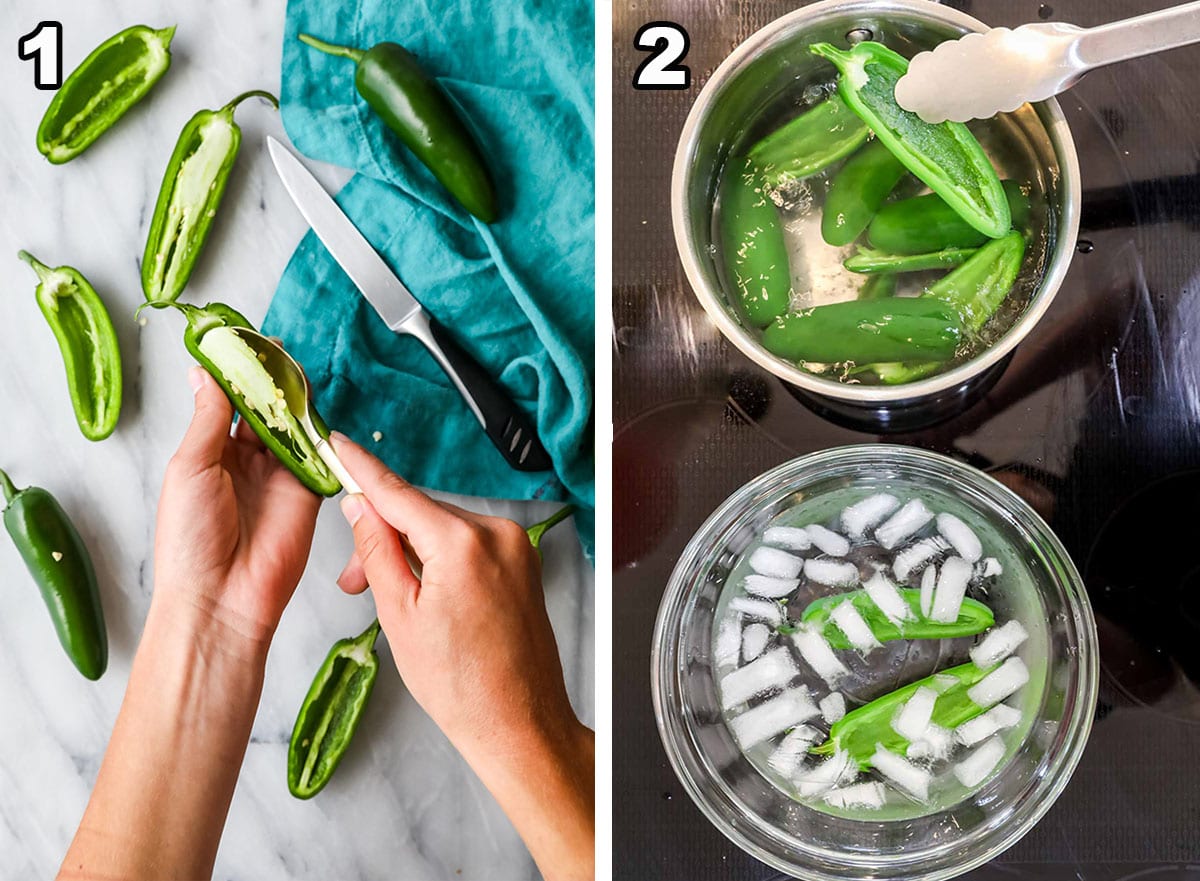 Cut your jalapenos in half lengthwise and scrape out their seeds.
Blanch the jalapenos in boiling water for 2 minutes, then remove to an ice bath. Pat dry and set aside before filling.
Filling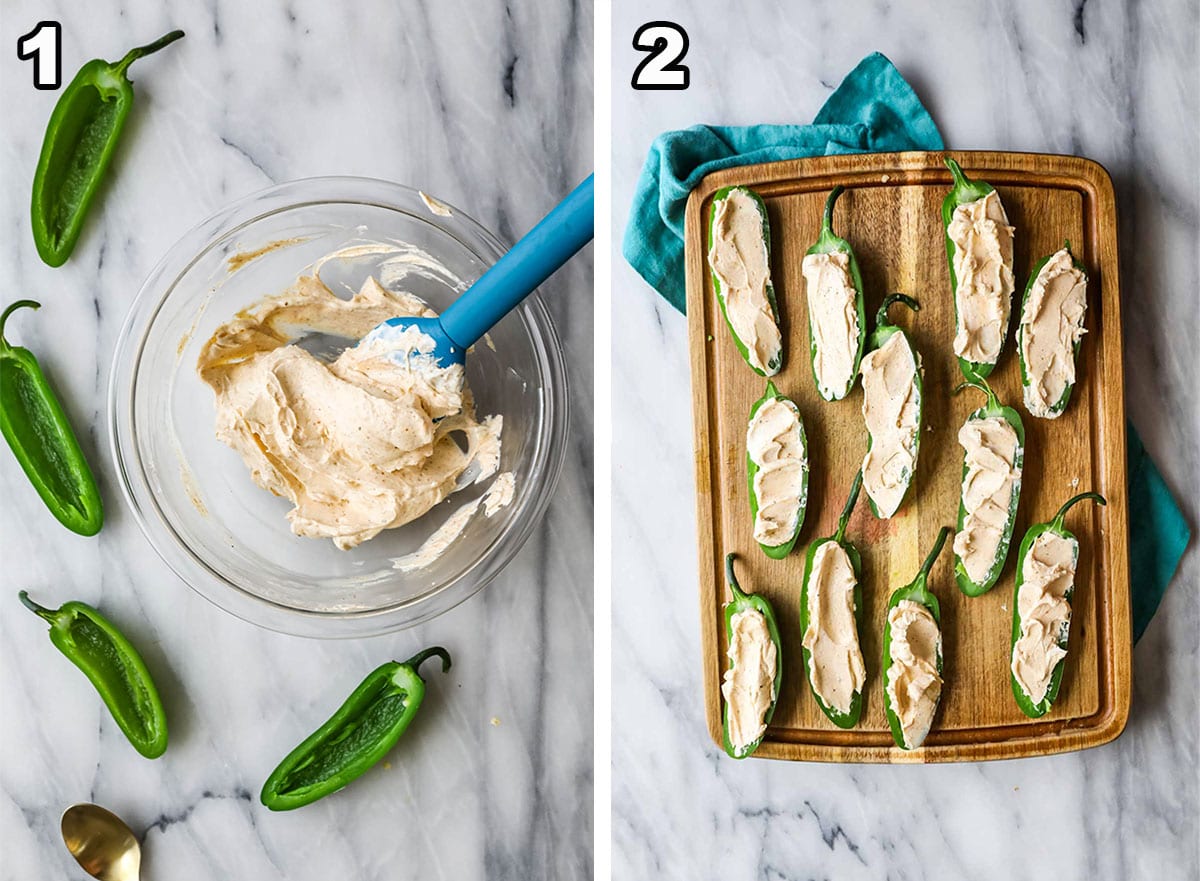 Stir together the cream cheese and spices until combined. Make sure your cream cheese is softened or the mixture will be lumpy (not the worst thing in the world).
Generously fill each jalapeno popper with the cream cheese mixture (make sure to evenly divide amongsgt your pepper halves), then set aside.
Breading & Frying
Dip the jalapenos in your prepared egg/milk mixture, then dredge in the prepared flour mixture. Transfer these to the fridge to rest for at least 10 minutes. This is your first coating, it will help the second coating adhere and will give you a crisp exterior.
After resting, dip the jalapenos in the egg/milk mixture. Make sure the flour is completely covered or the panko will not adhere and you'll have bald spots poking through.We want a thorough, crispy/crunchy layer.
Dip in the panko, making sure the pepper is completely coated. Place in the fridge to chill for 25 minutes.
Fry 1-2 jalapeno poppers at a time in 375F oil over medium/medium low heat. Once golden brown, remove from the pot and place on a paper towel lined plate to drain. Let cool slightly before enjoying, but don't wait too long! These are best fresh and still warm from the oil.
SAM'S TIP: Don't fry too many jalapenos at once, or you risk dropping your oil temperature too much. This can cause soggy, greasy jalapeno poppers–and no one wants that!
I like to maximize my oil usage and I'll often whip up a batch of mozzarella sticks with marinara to make the most of it. When you're finished frying, cover the oil and let it cool completely before handling.
Frying oil may be reused, but you'll have to filter it (here is a guide on what to do with your oil once you're done using it). You can reuse it or dispose of it properly — never pour it down the drain! We personally pour into a sealable container and then throw away).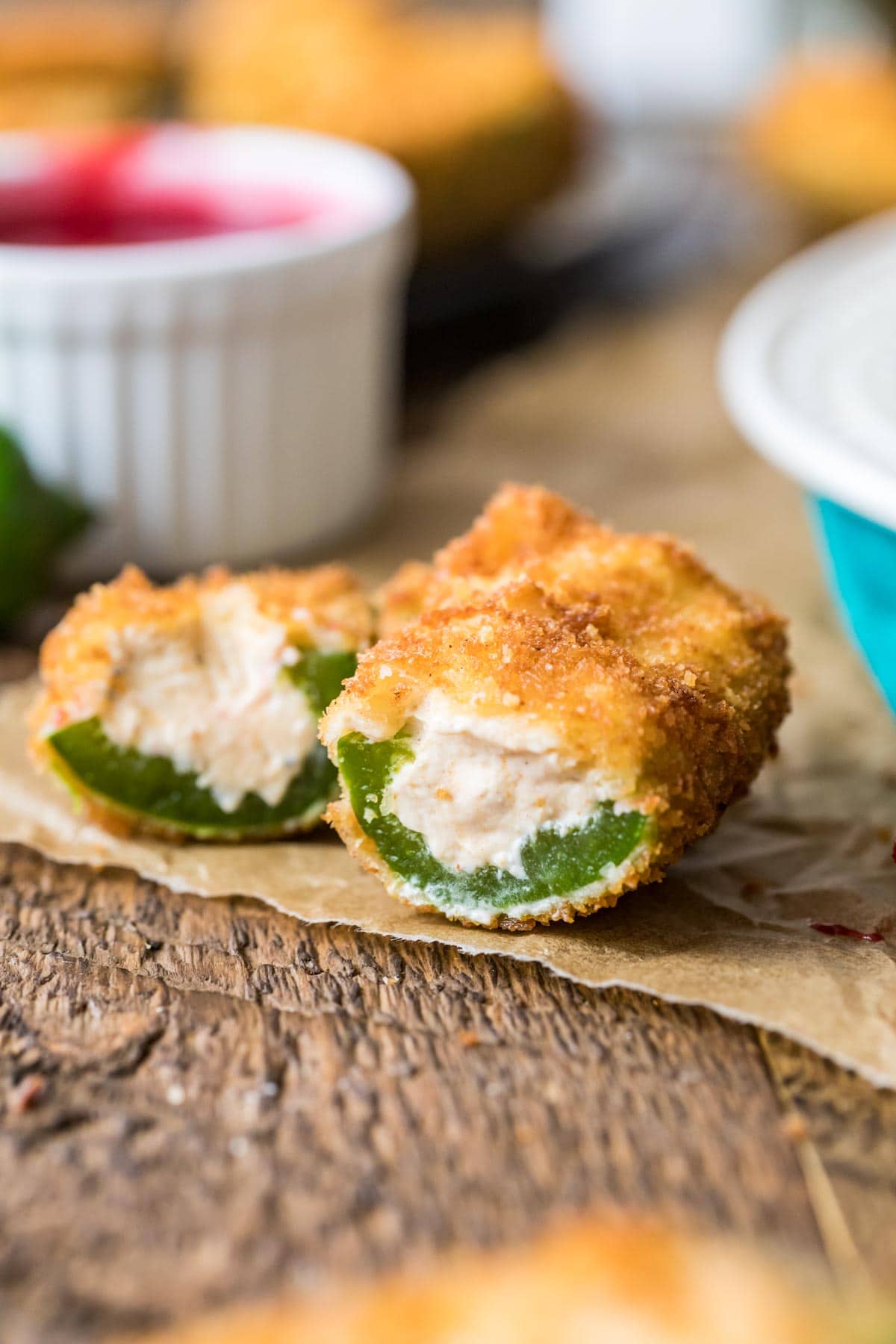 Frequently Asked Questions
How much dipping sauce does this recipe make?
The sauce recipe makes a bit more than ½ cup of sauce. Feel free to double it if you like a lot of sauce, but this has always been more than enough for my family (and we like sauce!).

If you're looking for another dipping option for your jalapeno poppers, ranch dressing also works nicely here!
What type of oil is best for frying?
Vegetable oil is the classic choice, followed by canola oil. Peanut oil would work, too. If you'd rather not use any of those oils, you can absolutely fry in avocado oil.
I've been using avocado oil quite a bit lately in my baking but haven't fried with it myself yet just because it's so dang expensive and you use a lot when you fry. It's likely the healthiest choice, though!
Can I add bacon?
Sure! Whip yourself up a batch (consider some easy oven-cooked bacon!) and chop it into small pieces. Stir these into the filling mixture. Yum!
Can homemade jalapeno poppers be reheated?
Yes, although they simply just don't taste as good as leftovers, sadly. I recommend enjoying fresh, but if you must reheat, do so in the oven or air fryer to help preserve their crispness (the microwave will make them soggy).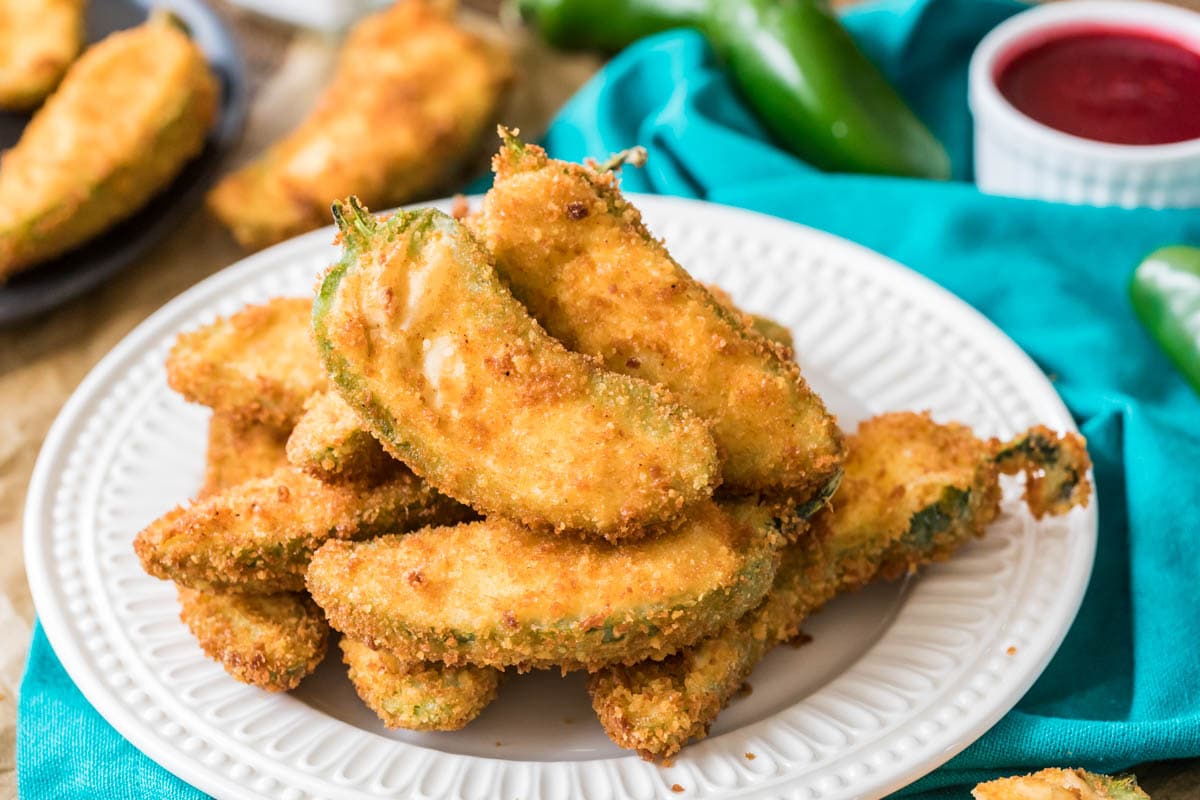 Are there any other restaurant dishes you'd to see recreated (like my pizookie)? Let me know in the comments!
Enjoy!
Let's bake together! I'll be walking you through all the steps in my written recipe below! If you try this recipe, be sure to tag me on Instagram, and you can also find me on YouTube and Facebook
Jalapeno Poppers
These fried jalapeno poppers are so crisp and flavorful! My recipe includes a tangy raspberry dipping sauce that pairs perfectly with the creamy, spicy flavors.
Print
Pin
Rate
Ingredients
For Dipping Sauce
1

Tablespoon

olive oil

1

Tablespoon

minced jalapeno

2

cloves

mined garlic

2

cups

(

240

g

)

frozen raspberries

⅓

cup

(

66

g

)

granulated sugar

2

Tablespoons

white wine vinegar

¼

teaspoon

salt
For Poppers
6-9

jalapenos

see note

8

oz

(

226

g

)

cream cheese

softened

¼

teaspoon

garlic powder

¼

teaspoon

onion powder

¼

teaspoon

smoked paprika

¼

teaspoon

ancho chili powder

or chipotle powder, optional

¼

heaping teaspoon salt

¼

teaspoon

ground black pepper
For Breading
1 ½

cups

(

106

g

)

plain panko

½

cup

(

63

g

) all-purpose flour

½

teaspoon

salt

2

large eggs

½

cup

(

118

ml

)

whole milk
Instructions
Prepare raspberry dipping sauce: In a saucepan, heat the olive oil over medium heat until shimmering. Add jalapeno and cook until softened, then add garlic and cook until fragrant (about 30 seconds).

1 Tablespoon olive oil,

1 Tablespoon minced jalapeno,

2 cloves mined garlic

Add raspberries, sugar, vinegar, and salt. Cook until raspberries release their juices and mixture is slightly thickened. Strain well through a fine mesh strainer into a heatproof bowl and discard solids. Set aside to cool then cover and refrigerate until ready to serve (makes about ½ cup sauce)

2 cups (240 g) frozen raspberries,

⅓ cup (66 g) granulated sugar,

2 Tablespoons white wine vinegar,

¼ teaspoon salt

Prepare the jalapenos: Cut each jalapeno in half lengthwise and scrape out seeds (wear gloves!). Bring a pot of water to a boil and blanch the jalapenos in boiling water for 2 minutes, then carefully remove and transfer to an ice bath to cool. Pat dry and set aside.

Make the filling: In a bowl, combine softened cream cheese, garlic powder, onion powder, chili powder, paprika, salt, and pepper and mix well. Fill each jalapeno half with a heaping amount of cream cheese filling (about ½ ounce per jalapeno half). Set aside.

8 oz (226 g) cream cheese,

¼ teaspoon garlic powder,

¼ teaspoon onion powder,

¼ teaspoon smoked paprika,

¼ teaspoon ancho chili powder,

¼ heaping teaspoon salt,

¼ teaspoon ground black pepper

Prepare breading station: Place panko in a plastic baggie and use a rolling pin to crush until you have fine pieces. Pour this in a shallow dish. In another shallow dish, whisk together all purpose flour with ½ teaspoon salt. In a third dish, whisk together eggs and milk.

1 ½ cups (106 g) plain panko,

½ cup (63 g) all-purpose flour,

½ teaspoon salt,

2 large eggs,

½ cup (118 ml) whole milk

Bread the jalapenos. Dip each jalapeno half in the egg/milk mixture and allow excess to drip off. Dredge in the flour mixture and shake off excess. Place on a wax paper lined baking sheet and allow to dry at least 10 minutes. Dip again in the egg/milk mixture then coat all over with panko. Return to baking sheet and chill in the refrigerator for at least 25 minutes.

Heat the oil. While jalapenos are chilling, fill a medium-sized, heavy-bottomed saucepan at least 2-3" deep with oil. Heat oil to 375F (190C) over medium or medium-low heat (don't use high heat).

Fry. After jalapeno poppers have chilled, fry, 1-2 at a time, until golden brown. Carefully remove from the oil using tongs or a frying spider and place on a paper towel-lined plate to drain excess oil. Allow to cool slightly before serving warm with raspberry dipping sauce on the side.
Notes
Jalapenos & yield
How many poppers you get out of this recipe will depend on the size of your jalapenos. If yours are quite large you'll get fewer, if they're small you'll get more. I've made this recipe using as few as 6 whole jalapeno peppers and as many as 10!
Storing
Jalapeno poppers are best served warm and fresh, they do not store well. If you must store, store in an airtight container in the refrigerator, where they'll keep for a day or two. Reheat in the oven or an air fryer. 
The sauce may be made up to 5 days in advance, store in the refrigerator in an airtight container.
Nutrition
Serving:
1
serving
|
Calories:
268
kcal
|
Carbohydrates:
30
g
|
Protein:
7
g
|
Fat:
14
g
|
Saturated Fat:
7
g
|
Polyunsaturated Fat:
1
g
|
Monounsaturated Fat:
4
g
|
Trans Fat:
0.004
g
|
Cholesterol:
71
mg
|
Sodium:
413
mg
|
Potassium:
200
mg
|
Fiber:
3
g
|
Sugar:
13
g
|
Vitamin A:
696
IU
|
Vitamin C:
27
mg
|
Calcium:
86
mg
|
Iron:
1
mg
Nutritional information is based on third-party calculations and should be considered an estimate only. Actual nutritional content will vary based upon brands used, measuring methods, cooking method, portion sizes, and more.
Related Recipes